This Creamy Tuscan Chicken is an easy, flavorful dinner recipe that comes together in one pan and pairs with a host of side dishes! The perfectly seasoned chicken breasts are cooked to golden brown and covered in a rich, creamy garlic parmesan sauce full of sweet and tangy sun-dried tomatoes and fresh wilted spinach. I lightened up this recipe be reducing the amount of oil and using fat free half-and-half instead of heavy cream. This makes for a perfectly creamy sauce that tastes just as decadent with far less calories! Each serving of this Creamy Tuscan Chicken is just 378 calories or between 5-8 WW PersonalPoints (depending on your ZeroPoint foods). To view your WW PersonalPoints for this recipe and track it in the WW app or site, click here!
What should I serve this with?
This Creamy Tuscan Chicken pairs well with so many different side dishes. It's delicious with mashed potatoes, roasted potatoes, roasted vegetables, or a side salad. It's also great served over ½ cup or so of pasta or rice mixed in with the sauce and sun-dried tomatoes. You could also double the sauce ingredients if you want to turn it into more of a pasta dish. So many tasty possibilities!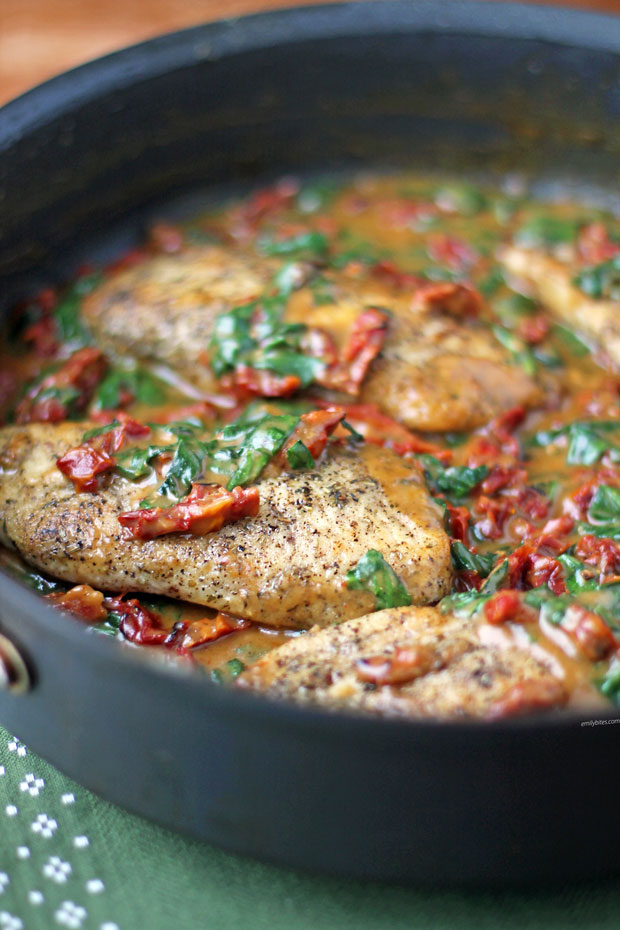 chicken cutlets
I often buy a big pack of boneless, skinless chicken breasts at the store and then use kitchen shears to trim them down to make 5-6 oz cutlets to use in recipes. Everything I cut off to make the cutlets gets cut into chunks to make chicken bites, such as my Nashville Hot Chicken Bites, Lemon Pepper Chicken Bites, or Blackened Chicken Bites. It's easy to weigh out 1 lb or 1.5 lb of chicken chunks and some 5 oz cutlets and freeze them for later in quart size freezer bags. That way, I always have some cutlets and some chicken bites on hand! Buying the bulk packs of chicken breasts is cost-effective, and cutting them into cutlets and bites ensured I have what I need on hand when I go to make a recipe. I find that kitchen shears make this task go quicker and easier than using a knife, so I highly recommend using shears.
Looking for more tasty, lightened up chicken recipes like this Creamy Tuscan Chicken? Check out my Mexican Street Corn Chicken, Cheesy Broccoli Stuffed Chicken, Lemon Pepper Chicken Bites, Baked Chicken Tenders, Crispy Onion Dip Chicken, Nashville Hot Chicken Bites, Crispy Chicken Parmesan, Apple and Brie Stuffed Chicken, Maple Dijon Chicken and Squash Skillet, Strawberry Balsamic Grilled Chicken, Blackened Chicken Bites, Ricotta Stuffed Chicken Bake, Lemon Garlic Chicken and Beans Skillet, Cream Cheese and Herb Stuffed Chicken, Tuscan Olive Chicken, Barbecue Bacon Wrapped Chicken Tenders, Pimento Cheese Stuffed Chicken, Cream Cheese Stuffed Everything Chicken, and many more in the Chicken section of my recipe index!
Creamy Tuscan Chicken
This Creamy Tuscan Chicken is an easy, flavorful dinner in a rich garlic parmesan sauce that pairs with a host of side dishes!
2

tablespoons

all purpose flour

,

divided

½

teaspoon

+ ⅛ teaspoon black pepper

,

divided

½

teaspoon

salt

½

teaspoon

garlic powder

½

teaspoon

italian seasoning

4

(5oz each)

thin chicken breast cutlets

,

(if you buy large breasts, trim them to 5 ounces each and pound them thin)

2

tablespoons

olive oil

,

divided

4

garlic cloves

,

thinned

3

oz

dry julienne cut sun-dried tomatoes

,

(I use California Sun brand)

1

cup

reduced sodium chicken broth

½

cup

fat free half-and-half

1 ½

oz

Parmesan cheese

,

finely shredded

2

cups

chopped fresh spinach

½

teaspoon

dried parsley flakes
In a small dish, stir together 1 tablespoon of the flour and ½ teaspoon each of black pepper, salt, garlic powder, and Italian seasoning.

Place the chicken breast cutlets into a gallon zip-top bag and dump the seasoned flour mixture over them. Seal the bag and toss until the chicken is coated on all sides.

Drizzle 1 tablespoon of the oil into a large saute pan and bring to medium-high heat. Lay the chicken breasts in a single layer in the pan. Cook for 4-5 minutes until golden on the bottom. Flip the breasts and cook for another 4-5 minutes until the chicken is cooked through. Remove the chicken to a side plate and cover.

Drizzle the remaining tablespoon of oil into the pan and bring to medium heat. Add the garlic and cook for 30 seconds until fragrant. Add the sun-dried tomatoes and stir to coat. Cook for another 1-2 minutes, stirring a few times throughout.

Add the remaining tablespoon of flour and whisk it into the tomatoes until coated/combined. Add the broth, half-and-half and remaining 1/8 teaspoon of black pepper and whisk together. Bring to a simmer and cook for 1-2 minutes to allow the sauce to thicken.

Stir in the Parmesan cheese, spinach, and parsley flakes and stir together until the cheese is melted and spinach is wilted. Add the chicken back to the skillet and spoon the sauce mixture over the chicken.

Serve each chicken breast with about 1/3 cup of sun-dried tomato/spinach/cream sauce over the top.
To view your WW PersonalPoints for this recipe and track it in the WW app or site, click here!
Nutrition Information per (1 chicken breast + 1/3 cup topping) serving:

378 calories, 20 g carbs, 8 g sugars, 14 g fat, 4 g saturated fat, 41 g protein, 4 g fiber, 441 mg sodium (from myfitnesspal.com)
Weight Watchers Points Plus:

9 per (1 chicken breast + 1/3 cup topping) serving (PP calculated using a Weight Watchers PointsPlus calculator and the nutrition info below)
Adapted from The Cookie Rookie and Dinner at the Zoo