This post may contain affiliate links. Please see our privacy policy for details.
The ONLY meatball recipe you need! The meatballs come out so perfect and so tender. Serve on pasta, polenta, or subs!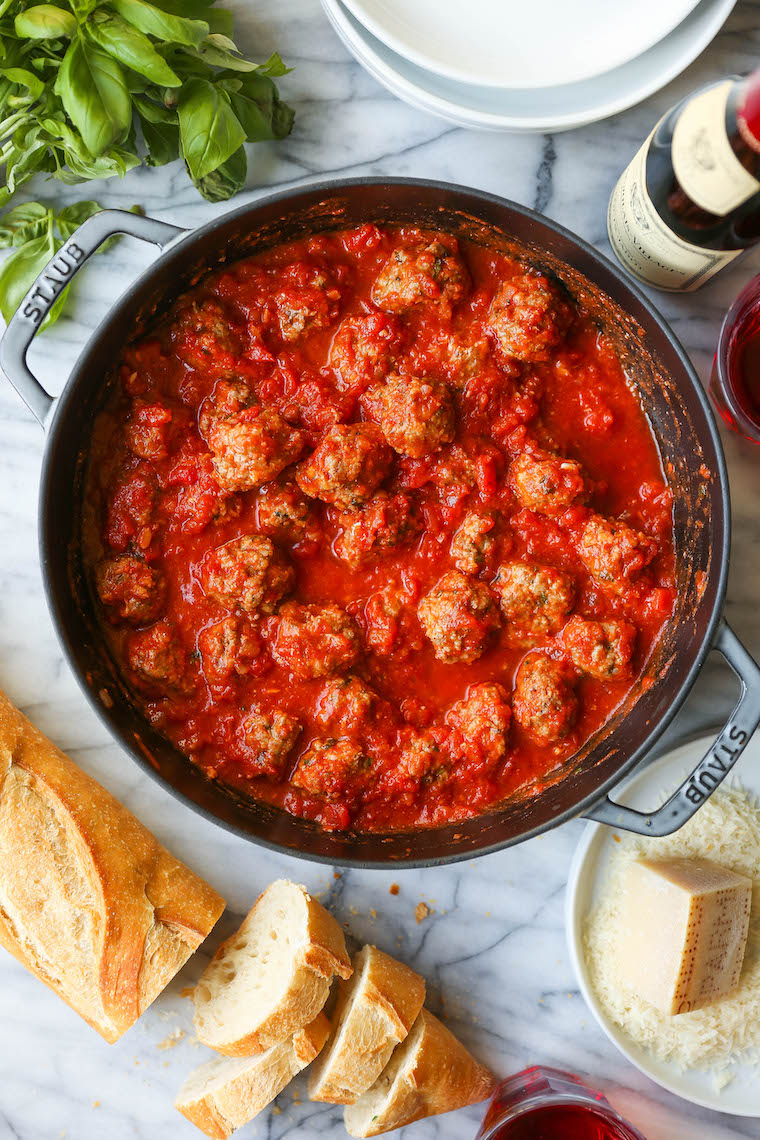 Homemade, super tender, super hearty meatballs. IS THERE ANYTHING BETTER?
No, the answer to that is always no. Yes, I sometimes grab those Trader Joe's mini meatballs in the freezer aisle (they are utterly fantastic and my one guilty pleasure) but at the end of the day, nothing beats homemade.
And with this baking method, these meatballs require minimal effort with an easy clean up. Not to mention, they cook through so evenly, yielding those perfectly browned, melt-in-your-mouth tender meatballs, swimming in the sauciest goodness.
Serve over pasta, polenta, or subs. It is all just so so good.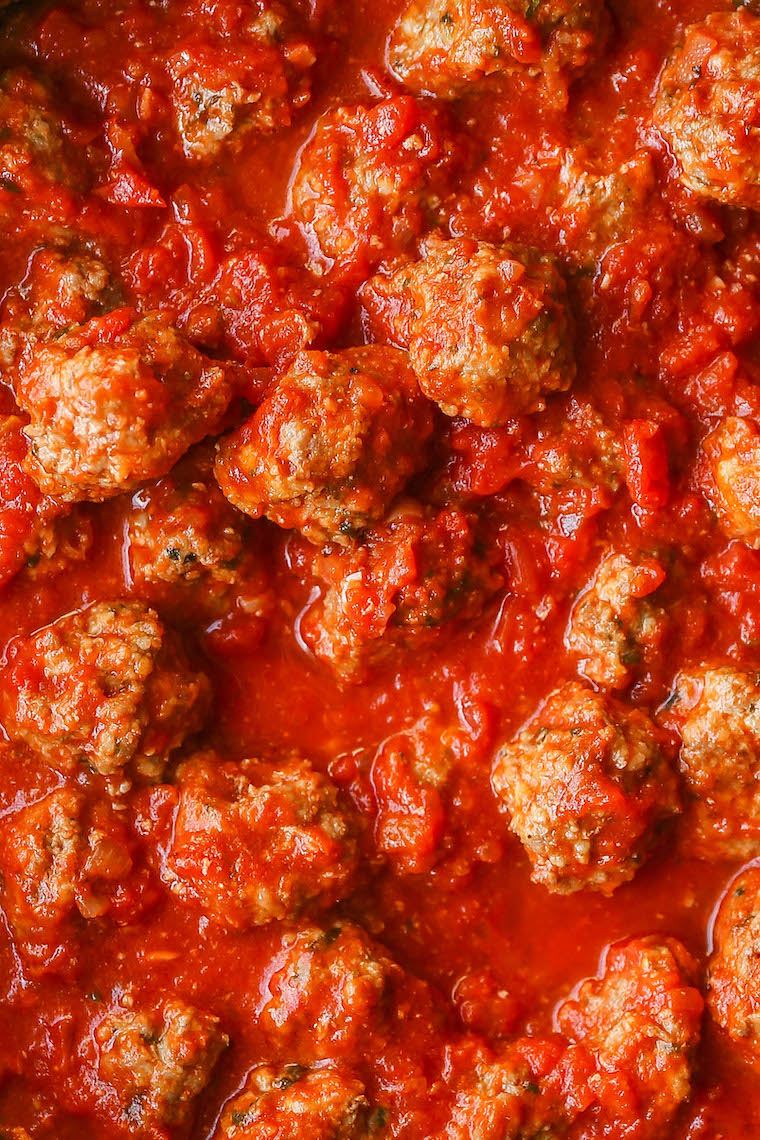 2

tablespoons

unsalted butter

½

small onions

,

diced

2

cloves

garlic

,

thinned

¼

cup

dry red wine

1 (28-ounce)

can

crushed tomatoes

1 (15-ounce)

can

small diced tomatoes

1

teaspoon

italian seasoning

Kosher salt and freshly ground black pepper

,

to taste
For the meatballs
1

pounds

lean ground beef

1

pounds

italian sausage

,

casing removed

½

small onions

,

grated

½

cup

Panko*

¼

cup

whole milk

1

large egg

¼

cup

freshly grated parmesan cheese

¼

cup

chopped fresh parsley leaves

2

cloves

garlic

,

thinned

2

tablespoons

chopped fresh basil

Kosher salt and freshly ground black pepper

,

to taste
Preheat oven to 400 degrees F. Line a baking sheet with parchment paper.

In a large bowl, combine ground beef, Italian sausage, onion, Panko, milk, egg, Parmesan, parsley, garlic and basil; season with 1 teaspoon salt and 1/2 teaspoon pepper. Using a wooden spoon or clean hands, stir until well combined. Roll the mixture into 1-to-1-1/4-inch meatballs, forming about 30-32 meatballs.

Place meatballs in a single layer onto the prepared baking sheet. Place into oven and bake until cooked through, about 18-20 minutes; set aside.

Melt butter in a large stockpot or Dutch oven over medium heat. Add onion, and cook, stirring frequently, until translucent, about 2-3 minutes. Stir in garlic until fragrant, about 1 minute.

Stir in wine, scraping any browned bits from the bottom of the pot.

Stir in tomatoes and Italian seasoning; season with salt and pepper, to taste. Bring to a boil; reduce heat and simmer until flavors have blended, about 10 minutes.

Stir in meatballs until heated through and evenly coated in sauce, about 3-5 minutes.

Serve immediately.
*Panko is a Japanese-style breadcrumb and can be found in the Asian section of your local grocery store.