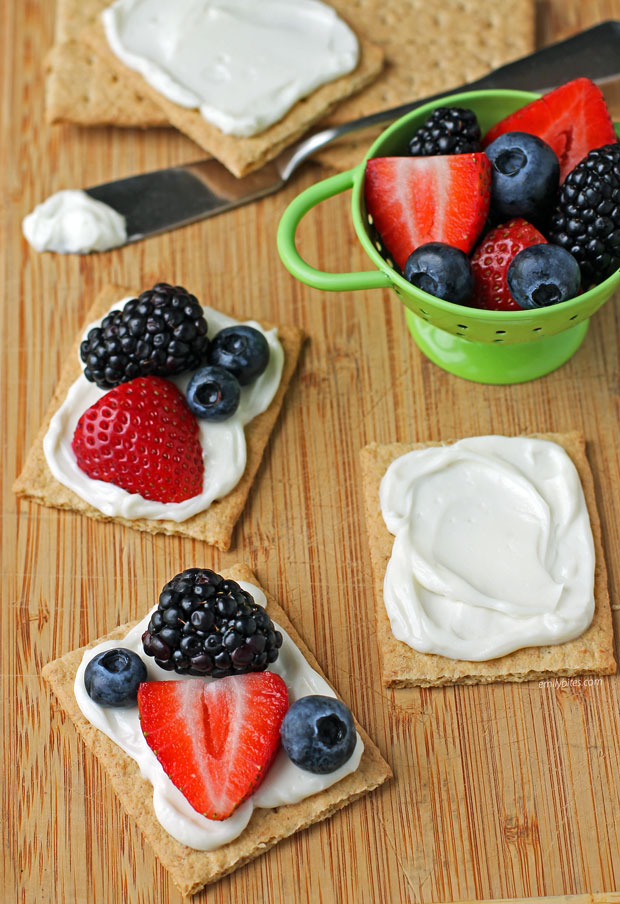 These 4-ingredient Mini Fruit Pizzas are an easy, tasty dessert to serve yourself, your family, or even a crowd! If you've never had fruit pizza, it's traditionally done with a sugar cookie layer on the bottom, cream cheese frosting in the middle, and fresh fruit on top. I lightened it up a bit (and saved you a bunch of steps and the need to turn on your oven) by using graham crackers instead of sugar cookie for the base. The results are still so delicious, and since they make individual mini fruit pizzas instead of one big one, everyone can decorate their own! I love the idea of ​​making a Mini Fruit Pizza bar with a stack of graham cracker squares, a bowl of cream cheese frosting, and a variety of fruit options to build your own. It'd be fun for kids and adults alike, and great for a family dessert or a party/gathering (once we're doing those again). These Mini Fruit Pizzas are fresh, sweet, and fruity and come together in minutes. The hardest part is probably remembering to set the cream cheese out to soften! Not convinced yet? Each Mini Fruit Pizza is just 70 calories or 3 SmartPoints on WW Green, Blue or Purple (or have two squares for 5 SP)! To view your WW PersonalPoints for this recipe and track it in the WW app or site, click here!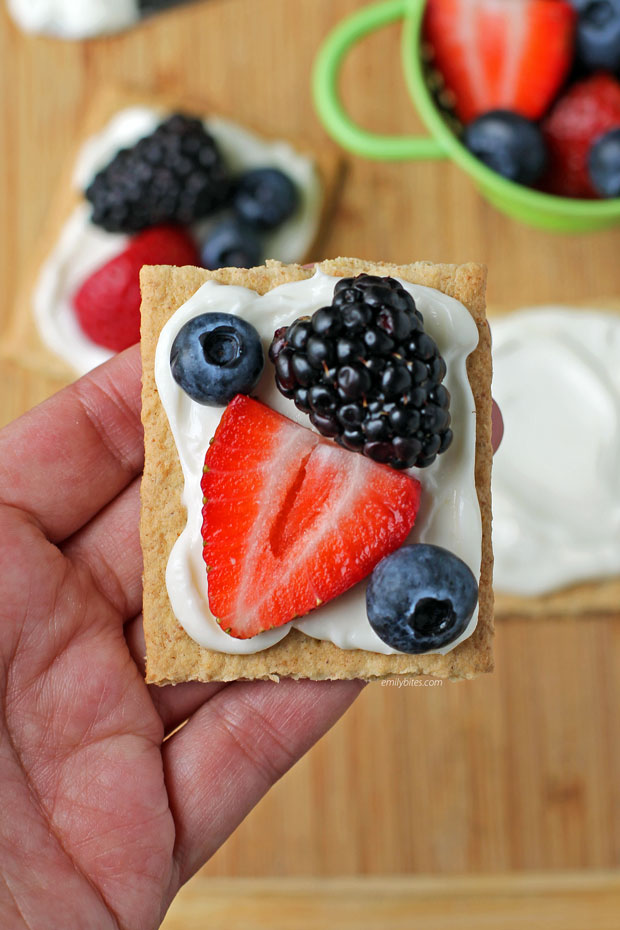 If you're not planning to serve these Mini Fruit Pizzas all at once, I'd suggest storing the components separately until you're ready to use them. You can easily stir together the cream cheese frosting and keep it in the fridge for a few days so you can quickly put one together whenever you're ready to eat. Alternatively, if you're planning to leave these out for a gathering (say you have people over for a barbecue, or to watch a sporting event), I'd suggest building a few at the beginning to put out as samples and then leaving the components out for people to make their own as needed. This way, the graham crackers will stay somewhat firm.
Are you looking for more tasty, lightened up dessert recipes like these Mini Fruit Pizzas? Check out my Blueberry Cheesecake Mini Tarts, Apple Pie Egg Rolls, Banana Chocolate Wonton Bites, Cheesecake Fruit Dip, Pumpkin Pie Bites, Chocolate Hummus, Apple Cinnamon Cheesecake Cups, Blueberry Cheesecake Rolls, Pecan Pie Bites, Chocolate Raspberry Cheesecake Cups, Mixed Berry Mini Tarts, Cheesy Cinnamon Baked Pears, Key Lime Cheesecake Cups, Roasted Strawberry, Brie and Chocolate Mini Tarts, Mini Cinnamon Apple Tarts, Chocolate Covered Strawberries, Chocolate Chip Cannoli Cups, and more in the Desserts section of my recipe index!
Mini Fruit Pizzas
These 4-ingredient Mini Fruit Pizzas are an easy, tasty dessert you can make in minutes!
3

ounces

1/3 less fat cream cheese

,

softened to room temperature

3

tablespoons

powdered sugar

,

also called confectioners sugar

5

graham cracker sheets

,

broken in half at the seam to make 10 squares

1

cup

berries

,

I used blueberries, strawberries and blackberries…feel free to use other fruits if you prefer!
In a small mixing bowl, stir together the softened cream cheese and powdered sugar until well combined.

Spread two teaspoons of cream cheese topping onto each graham cracker square and top with berries.
To view your WW PersonalPoints for this recipe and track it in the WW app or site, click here!
Nutrition Information per fruit pizza square:
70 calories, 11 g carbs, 6 g sugars, 3 g fat, 1 g saturated fat, 1 g protein, 1 g fiber (from myfitnesspal.com)
MYWW SMARTPOINTS PER Fruit Pizza Square: (SP calculated using the recipe builder on weightwatchers.com)
Green: 3 SmartPoints*/ Blue: 3 SmartPoints*/ Purple: 3 SmartPoints*
*One fruit pizza square is 3 SP on all color plans, but you can have two fruit pizza squares for 5 SPjust an FYI!
Weight Watchers Points Plus:
2 per fruit pizza square (P+ calculated using the recipe builder on weightwatchers.com)