This Slow Cooker Caesar Chicken combines boneless skinless chicken breasts with caesar dressing, parmesan cheese, and a few other pantry staples for a dish your whole family will enjoy. Chicken dinner just got a lot easier!
Add another shredded chicken recipe to your meal plan this week with my Slow Cooker Ranch Chicken Sandwiches – an ideal option for those busy weeknights.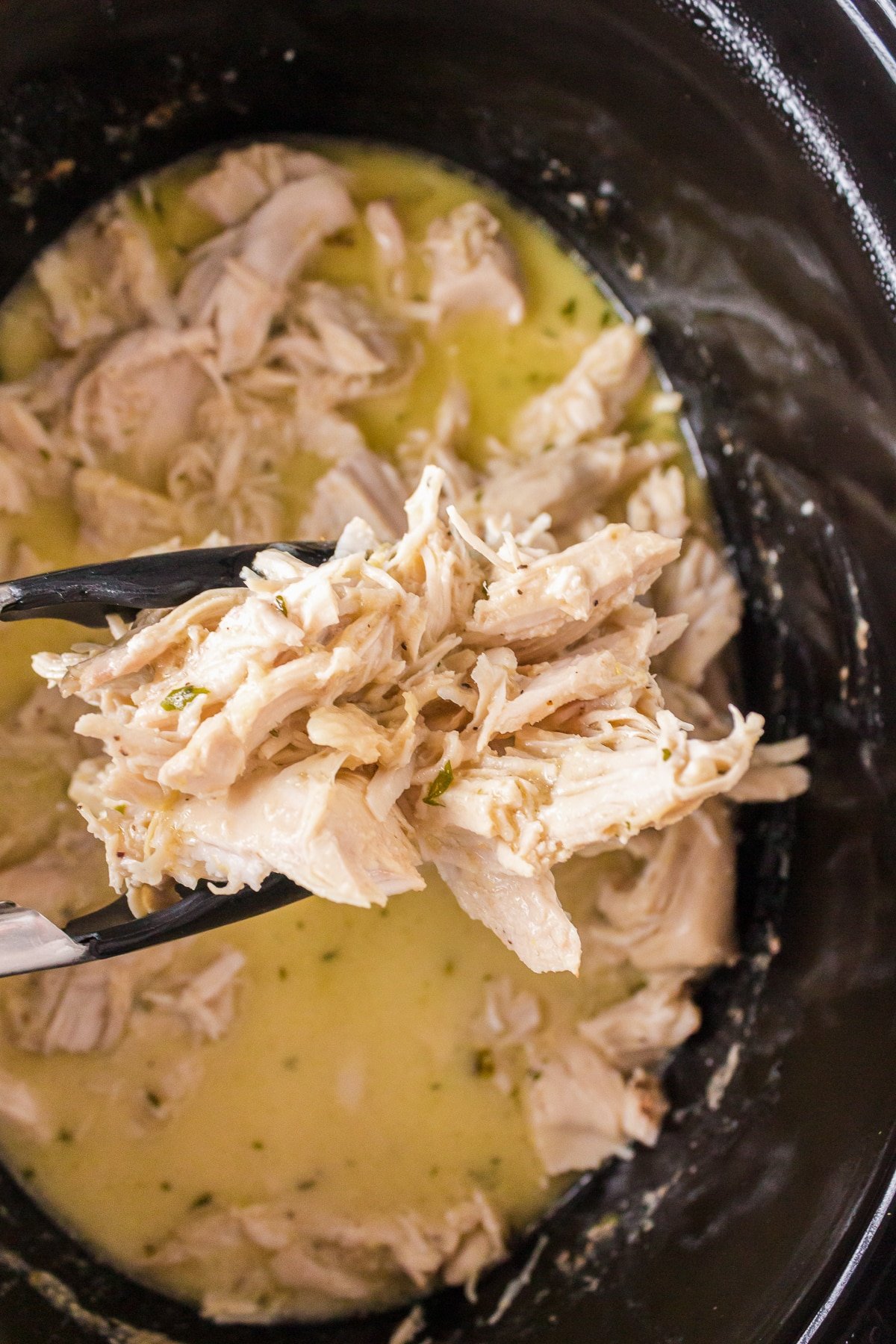 Why this Caesar chicken recipe works
This chicken dinner uses just a few ingredients and has a moderate cooking time. In just a few steps, you'll turn chicken breasts into a creamy chicken caesar dish that is flavorful and versatile too!
Recipe Ingredients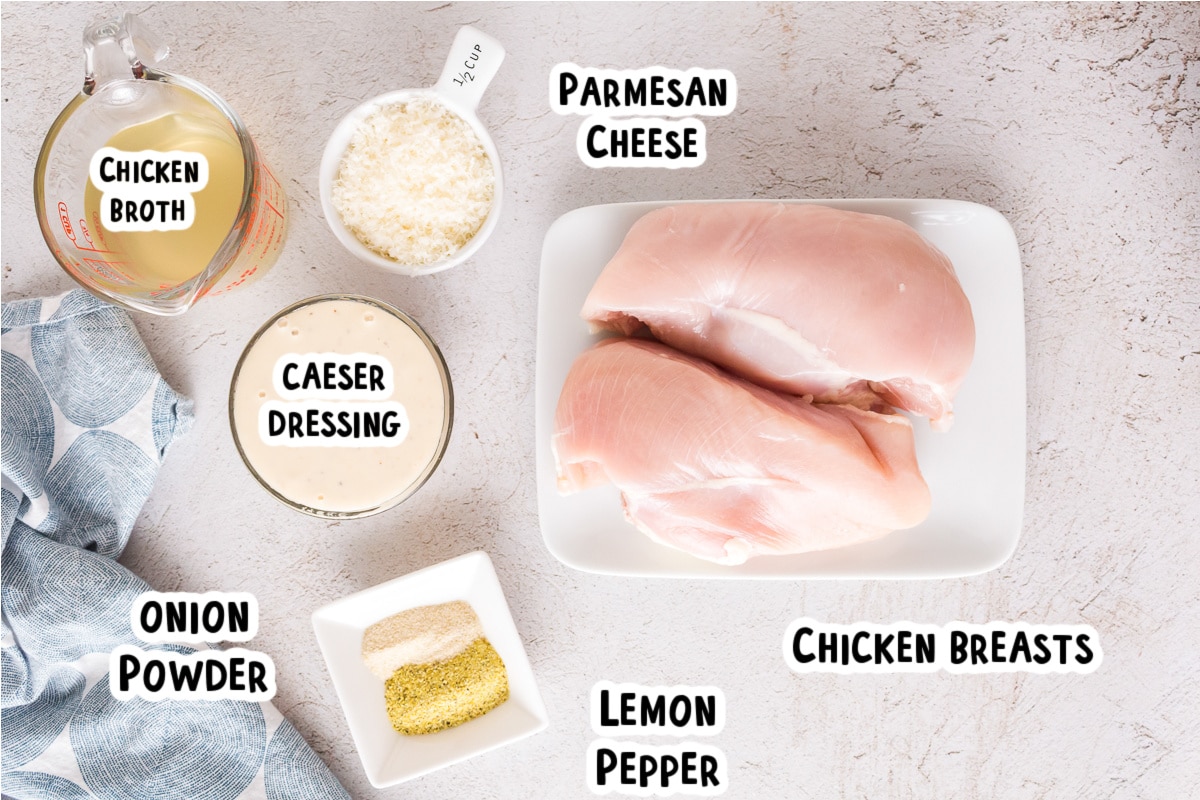 Chicken Breasts: You'll want to use at least 2-3 pounds of boneless skinless chicken breasts.
Caesar Dressing: The highlight of the recipe is caesar dressing which provides a flavor combination of garlic, salt, lemon, and smokey black pepper. We love Newman's Caeser Dressing, but also have used store brand with luck.
Seasonings: Onion powder and lemon pepper seasoning combine to create a finishing flavor touch to the caesar chicken recipe.
Chicken Broth: Combine with the dressing to create a creamy caesar sauce.
Parmesan Cheese: Grated parmesan cheese is the perfect cheese combination for a dish like this.
Step-by-Step Directions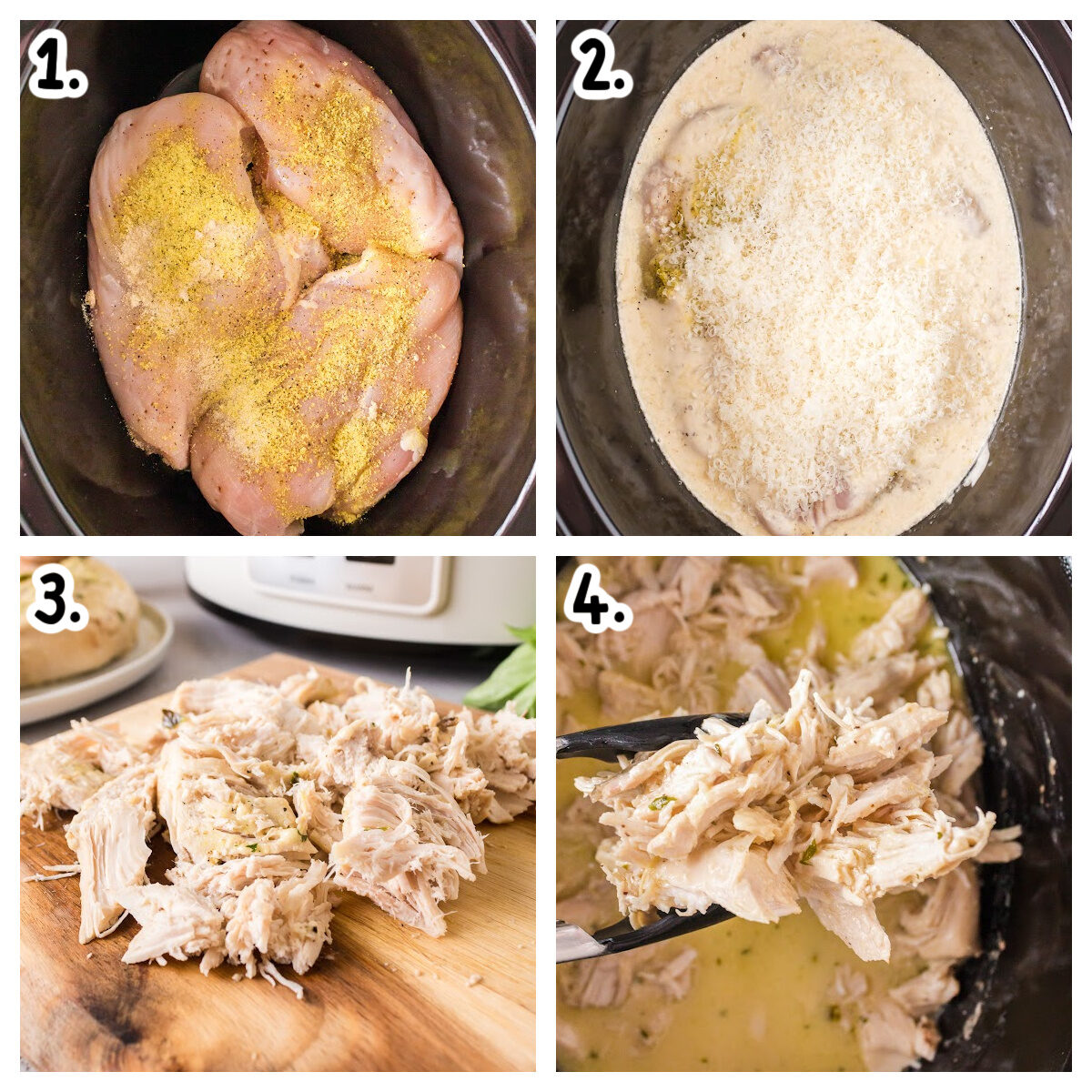 StepOne – Place fork-poke chicken breasts into the crockpot and sprinkle both sides with lemon pepper and onion powder.
StepTwo – Add the Caesar dressing, chicken broth, and grated parmesan cheese. Cover and cook on HIGH for 4 hours or LOW for 6 hours.
StepThree – After the cooking time is done remove chicken breasts and shred them with two forks.
Step Four – Place the chicken back into the sauce that is in the slow cooker. Serve and enjoy!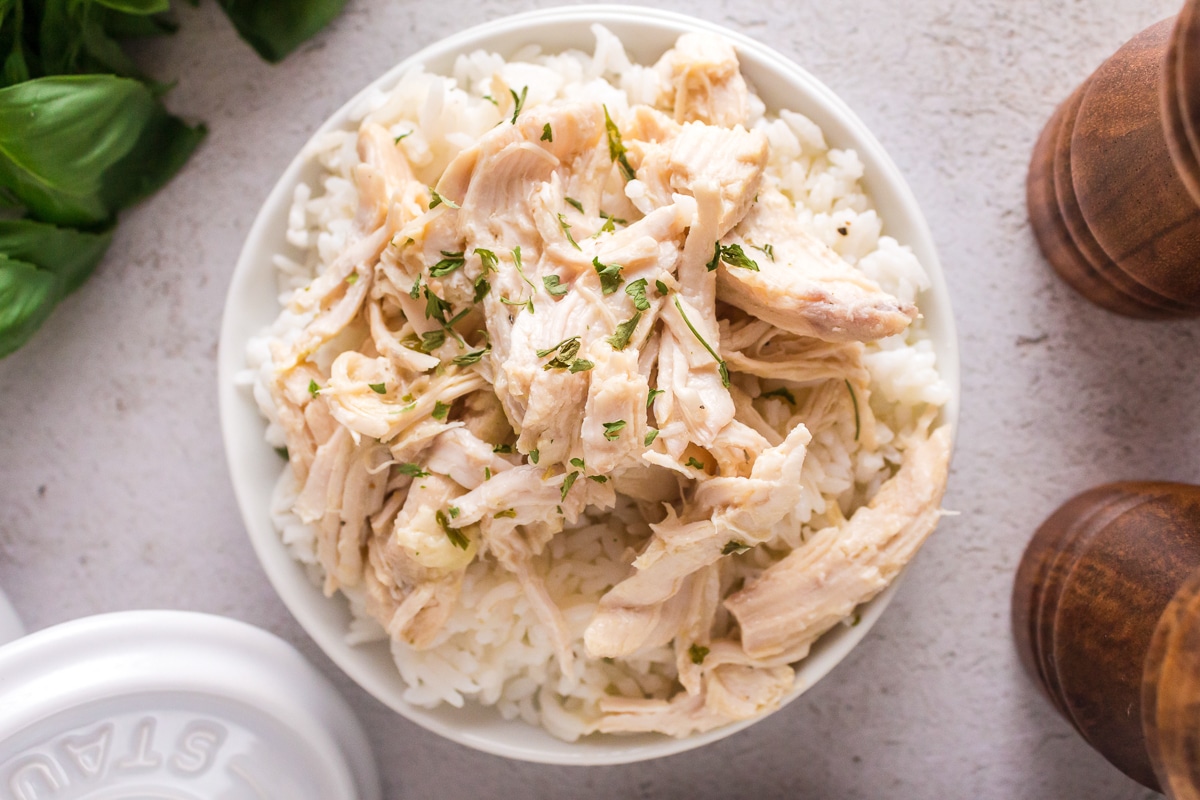 How to serve
This chicken is excellent over pasta, rice topped with fresh parsley, and added to a caeser salad with freshly chopped romaine hearts.
You can also make quesadillas with leftover chicken. All you need are 2 tortillas, chicken, more Caesar dressing, chopped onions, sour cream, and crumbled bacon. You can even add spinach.
Serve a helping of this caesar chicken on a sandwich topped with more creamy caesar dressing, chopped parsley, jalapenos, and freshly ground black pepper.
If you want a hearty meal, consider keeping the chicken breasts whole. Then, slice them and add the sliced ​​pieces to a plate. Enjoy the sliced ​​caesar chicken with roasted potatoes and butter-sauteed asparagus.
Recipe FAQs
Can I use chicken thighs in this recipe?
Yes. Make sure they are boneless and skinless and proceed with the recipe as instructed.
How do I store leftover chicken?
Add any remaining caesar chicken to an airtight container and keep them in the fridge for up to 4 days.
Can I use a meat mallet instead of poking the chicken with a fork?
Safe! The idea is to tenderize the chicken so it cooks to tender perfection. You can also use a rolling pin to tenderize the chicken.
Can I make baked caesar chicken with this recipe?
Absolutely. The biggest differences are placing the chicken in a prepared baking dish that has been sprayed with cooking spray and whisking up the creamy sauce mixture in a small bowl before pouring it over the chicken. Bake in the oven at 375 degrees for 45 minutes or until the internal temperature of the chicken reads 165 degrees.
Can I add salt and pepper to these chicken breasts as well?
Yes, though I would wait to add until the dish is cooked. The caeser dressing has plenty of salt and pepper.
Want to make more magic in your crockpot? Stay up to date and subscribe to my newsletter and follow along on Facebook, instagram, pinterest, tik tokand Youtube.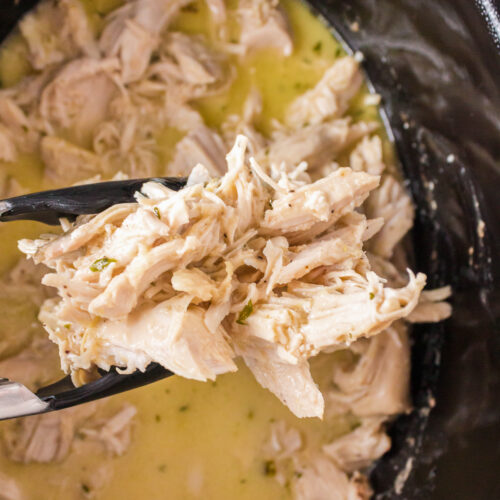 Slow Cooker Caeser Chicken Recipe
Chicken breast cooked with caeser dressing. A flavorful shredded chicken that can be used in many meals.
Print
Pine
Missed
Share by Text
Services: 6
calories: 477calories
Instructions:
In the liner of a slow cooker, place the chicken breasts. Poke them with a fork a few times each.

Sprinkle the lemon pepper and onion powder. Cover the breasts on each side.

Add the Caesar dressing and the chicken broth.

Sprinkle the grated Parmigiano.

Cover and cook on high for 4 hours. Or low for 6 hours.

After the cooking time is up shred the chicken with two forks.

Serve and Enjoy!
Prevent your screen from going dark
Recipe Notes:
Add any remaining caesar chicken to an airtight container and keep them in the fridge for up to 4 days.
Chicken thighs can be used instead of chicken breasts. Be sure to trim the chicken thighs well.
To cook in the oven: Bake in the oven at 375 degrees for 45 minutes or until the internal temperature of the chicken reads 165 degrees.
Don't be tempted to add salt to this dish until after the cooking time is up. The dressing room has plenty of salt.
Nutrition Information:
calories: 477calories | Carbohydrates: 3g | protein: 49g | Fat: 29g | Saturated Fat: 5g | Polyunsaturated Fat: 14g | Monounsaturated Fat: 7g | Trans Fat: 0.03g | Cholesterol: 161mg | Sodium: 847mg | Potassium: 876mg | fiber: 1g | Sugar: 1g | Vitamin A: 87UI | Vitamin C: 3mg | Calcium: 38mg | Iron: 1mg
Nutrition info is auto-generated. This information is an estimate; if you are on a special diet, please use your own calculations.
More Slow Cooker Chicken Recipes